Classroom resources
The following resources have been developed in collaboration with primary teaching specialists to help students explore everyday science and highlight a diverse range of scientists.
These resources are free to download and use.  
Science passport
An easy activity that can be an individual or class-based challenge, to encourage students to engage with everyday accessible science at home or at school. The passports can be edited to include your own ideas for challenges or tasks.  There are two levels ages 4-6 and 7-11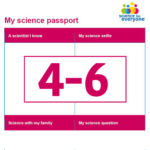 Passport age 4-6
Downloadable PDF document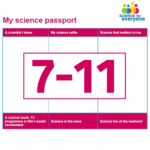 Passport age 7-11
Downloadable PDF document
Scientist profiles and activities
Short and simple role profiles demonstrating diverse scientists in a range of jobs and disciplines. The profiles highlight relatable skills that the students can also demonstrate in school and are accompanied by short simple activities that demonstrate how scientists use those skills in their jobs.